Cleveland Grand Prix: An American Show Jumping First
Home to inventors of the first automobile, airplane and professional baseball team, Ohio is also the birthplace of the first show jumping grand prix in the Western Hemisphere…the Cleveland Grand Prix. Since that first grand prix in 1965, the sport has grown to nearly 350 American grand prix and a billion dollar industry.
From early harness racing to fox hunting, saddle up with equestrian authority Betty Weibel as she explains how this picturesque corner of the Chagrin Valley grew into a world-class horse sport hub. Readers will relive the exciting victories of some of the finest horses and riders in history, and enjoy the Cleveland Grand Prix's glory years as the premier summer social tradition.
Kentucky's USHJA Wheeler Museum added an exhibit based on The Cleveland Grand Prix book and more, honoring the Chagrin Valley PHA Horse Show in the Iconic Horse Shows Display! If you can't get to the Kentucky Horse Park, here is the video…and of course you can read the book! Buy NOW on Amazon.com.
Visit the Book page and read reviews on Amazon. Find us on Facebook at Cleveland Grand Prix and see many more photos that didn't fit into the book!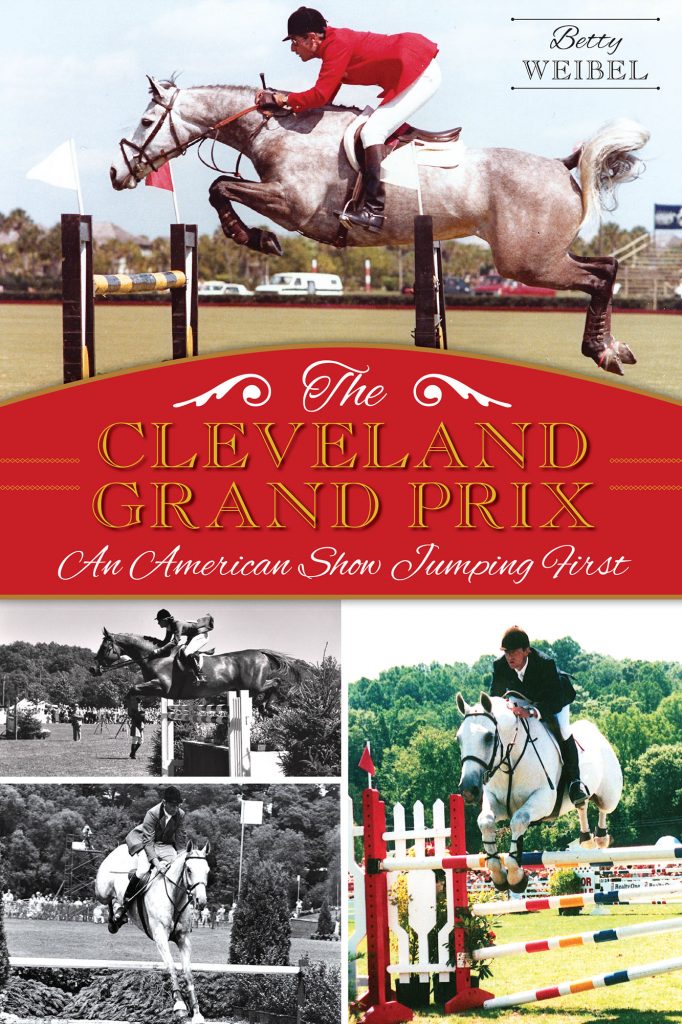 The Book
Table of Contents
Acknowledgements
Introduction
Part I: Why Cleveland?
1. The Early Years: Horses in Cleveland Sports
2. The Chagrin Valley: Land for Horse Sports
3. Horse Shows Evolve in Northeast Ohio
4. National Influences on the Local Equestrian Community
Part II: The Cleveland Grand Prix
5. The Birth of the Nation's First Show Jumping Grand Prix
6. The 1960s: The Soaring, Soaking '60s
7. The 1970s: Growth, Innovation and a Spinoff
8. The 1980s: Welcoming Sponsors, Managing Competition and Change
9. The 1990s: Conflicts, Cancellation and a Comeback
10. The New Millennium
11. The American Gold Cup Returns
12. A Foggy Future
Appendix A. Cleveland Grand Prix Winners PDF
Appendix B. U.S. Olympic Equestrian Team Members—Show Jumping
Appendix C. American Grand Prix Association Results—Horse of the Year
Appendix D. American Grand Prix Association Results—Rider of the Year
Appendix E. American Grand Prix Association Results—Rookie of the Year
Appendix F. Show Jumping Hall of Fame Inductees
Appendix G. FEI World Cup Show Jumping Champions
Notes
Index
About the Author