Little Victories: A True Story of the Healing Power of Horses is an inspirational story of a young Ohio woman who was paralyzed when a snow-covered roof collapsed on her 25 years ago. In sharing her tale, the book tells the story of how Fieldstone Farm Therapeutic Riding Center grew from a classroom idea to one of the nation's top centers. Readers, early teen through adult, will see how Debbie Gadus learned to live with disability, and they will get an inside view of the unique world of therapeutic horseback riding.
---
See Fieldstone Farm Therapeutic Riding Center in action and meet some of the veteran students, including Ernest, who is featured in Little Victories.
---
Early Praise for Little Victories…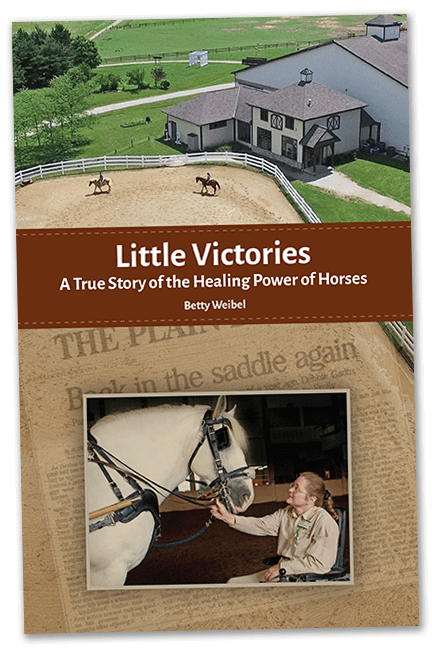 "Great ideas are born out of adversity, at least in the case of Fieldstone Farm TRC. Reading Little Victories will inspire you to do what you can to make the world a little easier for someone else. This is an inspirational story about an incredible organization. Four thumbs up!"
Andrea and Jim Thome – Author and Cleveland Indians Hall of Famer
---
"This book is a testament to the power of the horse and the strength and determination of therapeutic horsemanship participants. Lives are changed and enriched each day through equine-assisted activities and therapies and this story demonstrates that beautifully."
Kathy Alm, CEO, Professional Association of Therapeutic Horsemanship International
---
Little Victories is a multifaceted learning experience that presents facts through narrative. It is a story about creating something wonderful out of tragedy, showing readers how to find the good and help others do the same. Learning about the Therapeutic Riding Center and how it was created made me realize that people can build amazing things as they work through their hardships.
Elizabeth Ross Yurich – Author, On Vacation from Sanity
---
275 Pages – Over 30 images – ISBN: 9781692591359 – Retail price: $19.99 – Trim size: 5.5 x 8.5" – Paperback & e-book available at Amazon.com and local retailers
A portion of book sales are contributed to therapeutic riding centers and related-programs. A Brown Dog Books publication. Book resources.